The Lijadu Sisters
In 1970s Nigeria, only a tiny handful of female artists broke through the backing singer/dancer ceiling to become stars in their own right, particularly if they wrote their own material — And Fela cousins The Lijadu sisters did just that. Their repertoire ranged from love songs and dance anthems to philosophy and political/social commentary.  "The music business was hard for women in Nigeria," says Taiwo Lijadu.  "Back then, they didn't think women had brains."
Twins Taiwo and Kehinde were born in Jos, in northern Nigeria, on October 22, 1948. They enjoyed singing from an early age, encouraged by their mother, who bought them records by a wide range local and overseas of artists. Kehinde and Taiwo remember with special fondness discs by Aretha Franklin, Miriam Makeba, Ray Charles and, later, Fela Kuti (who, like the Nobel Prize winning writer and political activist Wole Soyinka, was their second cousin).
The Lijadu Sisters began working as session singers, but solid-gold talent and determination – and, no doubt, the twins' extraordinary physical beauty – soon led to their first own-name release, "Iya Mi Jowo" ("mother please"), which came out on Nigerian Decca in 1968. The song was written by Taiwo in 1965 and the story behind it is included in the notes for the album Mother Africa, for which the sisters rerecorded it.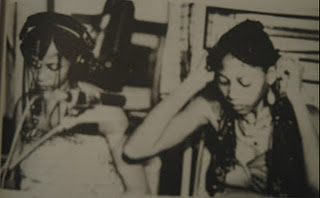 In 1971, the sisters met the British drummer Ginger Baker (Cream, Blind Faith, Airplane), who in the first half of the 1970s was a frequent visitor to Nigeria, where he recorded and performed with Kuti and his band, Africa 70. In 1972, the Lijadu Sisters performed with Baker's band at the cultural festival accompanying the Munich Olympics in Germany. For a while, Taiwo and Baker were an item.  Another fortuitous male encounter was with the multi-instrumentalist Biddy Wright. Wright's mother was a close friend of the sisters' mother, through whom the three met. Sadly no longer with us, Wright co-arranged and played on all four of the classic 1970s Lijadu Sisters albums released on Decca's Afrodisia imprint, which are now being re-released by Knitting Factory Records – Danger (1976), Mother Africa (1977), Sunshine (1978) and Horizon Unlimited (1979).
In 1988, they visited the US with Sunny Ade, and performed under their own name with Ade's band, winning  an enthusiastic review in The New York Times.  By the end of the decade, things were looking good for the Lijadu Sisters in the US, and after the Ade concerts they stayed in the country while their green card applications went through.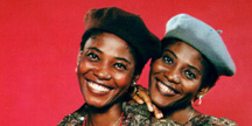 Then disaster struck. Kehinde suffered dreadful spinal injuries in a fall in the hallway of the twins' Brooklyn apartment building (they lived on the first floor). "The first doctor who saw me gave me six months to live," says Kehinde. "Then they said I would never walk again. But I said to myself, 'I will be strong, I will not give up, I owe it to my family.'"  The accident threatened to finish the Lijadu Sisters' career, and it kept them out of the public eye until 2011, when Knitting Factory's reissue program began.  While Kehinde was recovering, the twins withdrew completely from the limelight. Inevitably, rumors about their wellbeing and whereabouts abounded. Some people thought they had died, others that they had married rich Americans and retired into lives of luxurious obscurity. There were several other tales. Everyone missed them terribly.  Kehinde eventually overcame her injuries, but it took many years, and she still suffers its effects. "I am walking, even dancing again now," she says. "But I cannot sit down for more than two hours at a time, and I cannot fly any distance at all."  During Kehinde's recovery, the sisters' were sustained by their embrace of the traditional Yoruba belief system Ifa (which has a divination strand of arcane complexity and infinite nuance), and their study of the use of herbs in healing.  "Our mother taught us that unless we had something to promote, it was best not to do interviews," says Taiwo. "Save it for when you have something to talk about. And we have not spoken for a long time. But the Knitting Factory program means we have something to talk about once more. We are back, and we are going to perform again." Adds Kehinde,"It is decades since we have performed publicly, but now we are ready – and the music will be of today! We thank our fans for remembering us, and we want them to know why we have been silent. We love them very much."
In 2011, Kehinde and Taiwo, inseparable since birth, share an apartment in Harlem, NYC. It is wonderful to have them back.