Bob Marley & Fela Kuti: Musical giants in a time of revolution, by Vivien Goldman
It's Bob Marley's Birthday — and therefore, the perfect time to share this article by noted music writer, Vivien Goldman. HBD, Bob!
———————————————————–
BOB MARLEY & FELA KUTI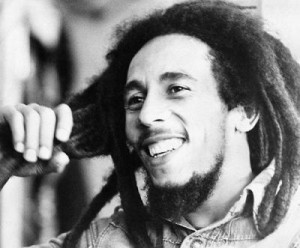 Musical giants in a time of revolution 
An exclusive extract from the upcoming book AFROBEAT ART (Part 1); The Revolutionary Vision of Fela Kuti and "His Artist" Ghariokwu Lemi by Ghariokwu & Goldman
Rebel music owned 1977 when musical giants walked among us. As Fela's ferocious Afrobeat on his all-conquering track, Zombie, rose to challenge the tender lilt of Ghanaian highlife, then Nigeria's most loved sound, it was part of a popular musical revolutionary front. In London and New York, Punk's Sex Pistols, Clash and Ramones were yowling into being. In Afrikan Amerika,  the funk of artists like George Clinton's Parliament, Earth Wind & Fire and the Godfather, James Brown, were trumpeting the long-drawn-out end of the Vietnam War and a futuristic Black Power. At the same time, an album by another revolutionary artist, Jamaican Bob Marley's Exodus, was making the world identify Jamaica with Africa.
Underlining the part music played in the politics of the era, both Marley and Kuti experienced aggression from the systems their songs denounced.
Rightly suspecting he was under surveillance by the CIA, 1977's Exodus, cut during months of exile in London, was Marley's response to a politically motivated assassination attempt on his life at his Kingston home, 56 Hope Road. Equally, the overwhelming local and global love for Fela's 1977 breakout success, Zombie, would prompt savage revenge from President Obasanjo's men at Fela's home, a sprawling grey concrete villa that became a haven for Fela's tribe in a working class area of Lagos, the Kalakuta Republic,
Hope Road was quite a contrast to Fela's extended family digs. A dignified mini-Great House set on a broad uptown avenue right by the Prime Minister's residence, Bob had acquired the property to create a safe space where politically polarized Rasta bred'ren could meet and reason outside the confines of their war-torn downtown streets, where random fires blazed in the scrub and goats grazed in the gutters. The four gunmens' attack in December, 1976,  shattered a peaceful Wailers rehearsal at Hope Road for Smile Jamaica, a free show for the people that was scheduled to happen at the Prime Minister's Residence despite Marley's concerns about the potential politicisation of the show. Wildly, the ghetto dons sprayed all around Marley's newly-built galley kitchen; but their bullets only hit the singer's forearm. Also wounded were his wife Rita and manager, Don Taylor.
The Smile Jamaica show did go on, with Bob ripping open his shirt onstage to display his bandaged body. The following day, he left the island, and didn't return for almost two years, during which period he recorded Exodus. Though at the time, the shooting was said to be provoked by street-level petty gangster runnings, time has proven the Invasion of Hope Road to have been politically motivated.  The repercussions of the attempt on Bob's life still echo in Jamaican and international politics today.
Already a local hero, Fela pierced global consciousness with Zombie,  a propulsive song satirizing Nigeria's submissive mindset under military dictator, Obasanjo — an old schoolmate of Fela's, and his nemesis. Zombie got dancers in clubs round the world swivelling left and right as if the dance-floor were a parade ground — and made Nigerian soldiers question their choices. The government of Obasanjo was one of a series of military regimes that  had left the Nigerian people reeling and disenfranchised, shattering the heady optimism of Independence in 1960. To give some sense of what it was like to live under such a military dictatorship, the sort of beating that Rodney King received from the L.A police, sparking the 1991 L.A. riots, was official government policy in Nigeria for infringements as minor as jaywalking. Even for law-abiding civilians, everyday life could feel like imprisonment.
Thus, Fela created his Kalakuta Republic as a city-within-a-city commune in the  concrete working-class Lagos streets. A mega-Alpha male, Fela could only rule, never follow. The attention received by Zombie and Fela's own outsize lifestyle and charisma, drew attention away from the government's own cultural project, Festac 77. International media preferred to chill at Fela's, smoking a big spliff and admiring his women, than join the government soirées. Sheer jealousy was part of the reason  why the Kalakuta Republic was torched in February 1977, many of his women sadistically raped, and Fela's mother Funmilayo thrown from the window, leading to her death.  Fela's free zone was no longer inviolate.  The brutal treatment of his women led to his decision to marry twenty seven of them in a traditional African ceremony. As it is in the musical, Fela!, the violation of Kalakuta was a defining, pivotal moment for Fela, the man. Seeing those dread events re-enacted in the theatre, caught up in the mythic, imaginative intensity of the show, those like myself who have stayed at Kalakuta and were close to Fela, invariably find they're moved to tears, even while the Afro-funky incantation of the  music stirs a fierce urge for life.
After Zombie and the rape of Kalakuta, Fela became an acknowledged avatar of popular music — part of the elite pantheon of activist musicians that includes John Lennon and Bob Marley, who all, in Fela's oft-quoted words, used music as a weapon. He paid a terrible price for that status – yet paid it with pride.
copyright 2011 Vivien Goldman
*************************************************************
Vivien Goldman is the Professor of Punk & Reggae at NYU's Clive Davis Institute for Recorded Music. where she will be teaching a course on Fela in 2012. She is the author of The Book of Exodus, the Making & Meaning of Marley's Album of the Century (Three Rivers Press/Random House); and with artist Ghariokwu Lemi, of the upcoming Afrobeat Art (Part 1.)