Boston councillor Charles Yancey welcomes FELA! to Boston!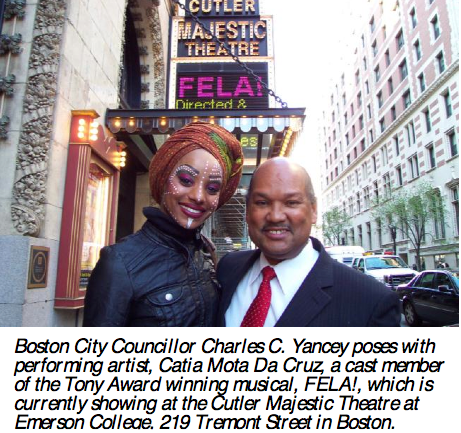 Boston City Hall (May 1, 2012) – Boston City Councillor Charles C. Yancey welcomed the critically acclaimed, Tony Award-winning musical FELA! to the City of Boston last Sunday.
Councillor Yancey called the musical, which tells the important story of legendary Nigerian musician, Fela Anikulapo Kuti, an incredible demonstration of one man's sacrifice to improve the political environment and human rights conditions in Nigeria. "The music, the dance, the costumes, and the extraordinary talent made FELA! one of the best musicals I've ever seen," he said.
Fela, a Nigerian multi-instrumentalist, a musician and composer, the pioneer of Afrobeat music, human rights activist, and a political maverick, defied Nigeria's corrupt and oppressive military governments and devoted his life and music to the struggle for freedom and human dignity. His staunch defiance toward corrupt administrations consequently led to over 200 arrests and numerous severe beatings that left scars all over his body.
Fela, who recorded nearly 50 albums portraying his message of transparency, honest government, and justice for all, died in August of 1997, officially of complication from AIDS, but unofficially, according to friends, of injuries from one beating too many. His musical legacy is available globally through Knitting Factory Records.
FELA! has received 11 Tony nominations and three Tony Awards for Best Choreography, Best Costumes and Best Sound. The musical is a collaboration between Steve and Ruth Hendel, Jim Lewis, and Bill T. Jones, with support from Shawn "Jay-Z" Carter and Will & Jada Pinkett-Smith.
FELA! can be seen this week at Emerson College's Cutler Majestic Theatre, 219 Tremont Street in Boston. Show times are Tuesday, May 1, at 7:30 pm; Wednesday, May 2, at 7:30 pm; Thursday, May 3, at 7:30 pm; Friday, May 4, at 8:00 pm; Saturday, May 5, at 2:00 & 8:00 pm; and Sunday, May 6, at 2:00 pm & 7:30 pm.
Councillor Yancey urged all Bostonians to come out and enjoy the phenomenal performance of FELA! "It's a breathtaking musical that will leave you enthusiastic about life."