Producer Stephen Hendel writes a letter to President Mahama of Ghana in response to the article featured in Vanguard on 12/4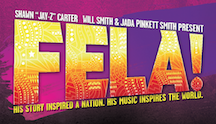 December 5, 2012
H.E. John Dramani Mahama, President of The Republic of Ghana
Accra, Ghana
Mr. President,
When we took the Fela Musical to Lagos last year, I was thrilled to learn that the Vice President of Ghana was flying specially to Lagos to see the show and represent Ghana at the performance. I saw this as a real act of African solidarity. It was made even more significant when we met and I understood the respect and affection you had for Fela, his courage, and his music. I found myself in the presence of a kind and gracious man and had the great pleasure of introducing you to the audience and heard you speak so candidly about the importance of Fela, his music, and message. I was profoundly touched to know that we shared what had so deeply resonated within me when I first heard this music. That it has moved an entire generation of Africans, who actually lived the experience.
The musical to me is about how a man through his art fearlessly stood up defending human dignity; inspiring all of us to stay true to what is right at whatever cost. That, the President of a Great African Nation was inspired as a youth by this truth and today as leader feels this legacy in his being, fills me with optimism for us all and humanity.
Congratulations President Mahama and thank you profoundly! Should the people of Ghana return you like Obama as their president this Friday, I am confident, it is the right choice in the right direction!
Sending you my greatest African wishes,
Stephen Hendel, Producer
Fela! The Musical